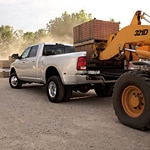 When you look at a Ram 3500, you'll see that it is a larger truck. The size of the vehicle transfers to the durability that it offers. The V8 engine under the hood of the truck delivers 430 hp, making it a vehicle capable of pulling almost any small vehicle that you might have. The frame features a rugged design that enhances the truck's durability when navigating over various types of terrain in Oshkosh, WI for a smooth ride.
The body is made of military-grade materials and aluminum-alloy. These products give the Ram 3500 a strong underbody area to support the rest of the truck. While at Bergstrom Chrysler Dodge Jeep Ram of Oshkosh, you can look at the study suspension that makes getting over minor bumps and major hills a bit more comfortable.
The steel exterior of the body decreases the number of dents that you might see. It also keeps rust development to a minimum. Since aluminum is used throughout the frame of the truck, it allows for the weight to be distributed evenly, leading to more durability.