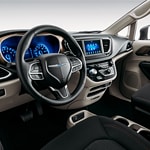 Whether a pro or novice, no one enjoys driving difficult cars. Easy to handle cars are better for several reasons, including reducing fatigue for long journeys. We at Bergstrom Chrysler Dodge Jeep Ram of Oshkosh checked out a range of vehicles, and we loved how easy the Chrysler Voyager is to handle.
One of the best features of this car is its powered steering that does not require too much energy. You can drive quickly through Oshkosh, WI roads with the Rack-pinion steering that this car comes with, and you will enjoy the whole experience.
The car also has powerful brakes that make it easy to respond to emergencies. The 4-wheel disc brakes this car comes with proved to be helpful during our testing sessions. It comes with steel-made 17" tires that are fully covered. You can trust the high-quality tires to have a good grip on the surface of any terrain.